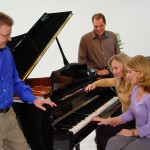 Sound-A-Round One Music is proud to represent PianoDisc, manufacturer of the world's leading retrofit player piano system. You can select one of our fine pianos and have the PianoDisc system installed or we can install a player system on your instrument and awaken your sleeping family heirloom!
All PianoDisc installations are performed by Sound-A-Round One Music's factory-certified technicians in our technical center. No subcontractors are used.
Contact us today, and schedule an appointment to explore the different ways real, live piano music can fill your home!